30%
streamlined time to hire
What our customers are saying
After 1 year, 93% of the new hires predicted by SuccessFinder to be successful either met or exceeded job performance expectations.

Martin Robert

VP Talent Development, Culture and Communications

Beneva
SuccessFinder offers an objective lens; the competency profiles coupled with position benchmarks are very powerful.

Daryl Wilson

President and CEO

Hydrogenics
The profiles that SuccessFinder has developed describe exactly what I've been trying to pinpoint for the last 20 years.

Johnny Roy

VP Sales

iA Financial Group
Validity in behavioral decision-making has moved from 30% to over 80% with SuccessFinder.

Pelly Shafto

VP HR & Organizational Development

Morrison Hershfield
I believe SuccessFinder has materially impacted our business. I'm a big fan.

Gaetan Thomas

Formerly CEO

New-Brunswick Power
How does it work?
Our unique scientific methodology measures medium and top performers to reveal what sets top performers apart.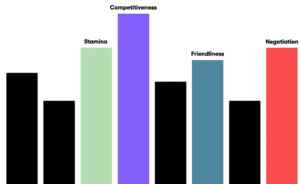 Collecting key data
We gather and pinpoint precise behaviors that make the difference between a medium and high performer in a specific role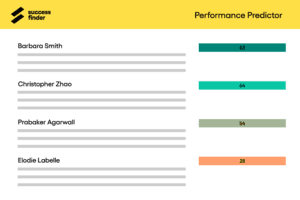 Screening applicants
Data visualization on your new interactive dashboard will help you quickly see which candidates have the right profile to succeed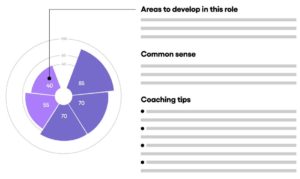 Onboarding
Reuse and share the same candidate insights with hiring managers for a smooth onboarding process
How will predictive hiring improve the way you hire?
We designed our predictive hiring suite as a candidate performance crystal ball for recruiters. Performance is measurable and predictable, so this data should be used to optimize every hiring decision.
View product brochure
Science-backed benchmarks give an objective approach to recruitment.
Clear identification of the specific behaviors that drive performance.
Easily assess in minutes what would normally take months.