Employees who click with company culture are 20 to 50% more productive
Our clients increase their eNPS, because they understand exactly how new employees align with their team and company culture
Culture Impact reduces turnover by up to 50% by preventing the hiring of those who are not aligned
How does it work?
Your organizational culture is built on people's beliefs, values and attitudes. Here's how we decode your culture to make it a key part of your hiring strategy.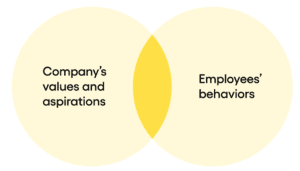 Collect data
We begin by collecting employees' behaviors along with data on your company's values and aspirations.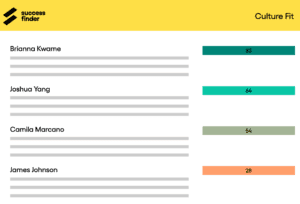 Create a cultural benchmark
A cultural benchmark will pinpoint behaviors specific to your organizational culture. Each time you hire, you can cross-reference this benchmark.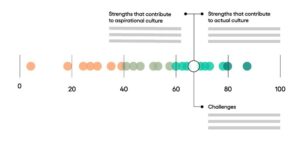 Quickly assess candidates
Use your new dashboard to quickly see how candidates compare to your benchmark and identify the unique contributions and potential challenges.
How will Culture Impact improve the way you hire?
When building an engaging corporate culture, we know that every hire counts. Make fast and informed decisions to preserve or influence your unique organizational culture.
View product brochure
A blend of existing and aspirational culture that considers how your culture is perceived by leadership vs. lived by your employees
Assessment data is continually examined for response-bias and to ensure fairness, reliability and validity
See how an employee contributes to your organizational culture and their team subculture, and how this drives organizational performance